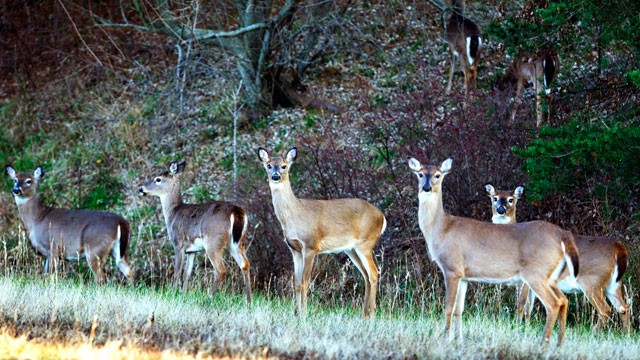 On the Marine Corps base in Quantico, Virginia, is a 547-acre plot of land home to the FBI's training academy. The academy includes both driving and running courses, and obviously, a firing range, where more than one million bullets are fired every month.
Naturally, the land has also become
a safe haven for wildlife
.
During hunting season, the academy is actually the one of the safest places for local deer to hang out (not to mention groundhogs, turkey vultures, and even a bear or two), and as a result they've become part of the family - hunters are allowed on the base proper, but not the FBI training grounds, which is probably mostly a security thing, but I'm going to go ahead and assume it's for the animals' sake as well.
What's interesting is that the deer will graze openly as close as fifteen feet away from the shooting targets, but despite becoming essentially immune to the sound of gunfire, they've learned over the years not to get any closer, and there are no records of any ever being hit accidentally.
They do occasionally run onto the jogging track, though, and allegedly once ate some flowers off of a 9/11 memorial - but that sounds like a frame-up to me.