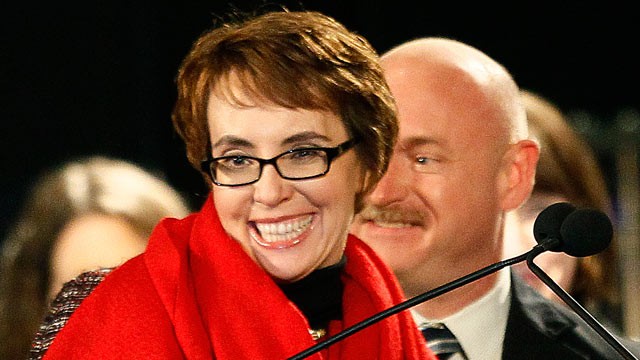 I pointedly gave this blog a positive theme--government actions that I like--because I am at heart a cynical bastard. It would be easy to log on every day and just mock Republicans for 300 words or so -
especially
over the last few months. But I wanted a challenge; and certainly, finding federal activity to get behind isn't always easy. As I've
mentioned before
, though, sometimes you get something downright inspirational.
One day after making a heartwearming appearance at the State of the Union (last time I'll mention it, I swear), Gabrielle Giffords returned to Congress yesterday to
tender her resignation
.
As wonderful as it is to see anybody return to fighting strength after such a grave wound, and one so ruthlessly inflicted, my gut reaction, after coming of age in the maelstrom that is the American news meda, is to dwell less on the recovery and more on the disingenuity of the coverage - what exactly makes Giffords so special, other than having been in front of a bullet? Nobody pays the slightest attention to the everyday acts that actually
make
someone like her a decent person and a respected politician, but the second she gets shot, suddenly everyone decides she's a hero.
But when Giffords walked into the chamber yesterday, she reminded us. Rather then parlay her newfound national adolation into a half-assed Senate run (or even Obama's next VP slot, as I remember people saying a while back), she gracefully does the right thing - resigns, so as to focus more fully on her recovery. She's only 41, and I'm sure she'll be back eventually, but by the time she does, her recovery will be an addendum to her story rather than the reason we care.
And even better, she used her last moments in the spotlight not to fluff her own ego, but to call her fellow congressmen and women
on their bullshit
:
"Always I fought for what I thought was right. But never did I question the character of those with whom I disagreed. Never did I let pass an opportunity to join hands with someone just because he or she held different ideals."
Of course, to be fair, she hadn't been in town very long.